See on Scoop.it – Social Sharing SEO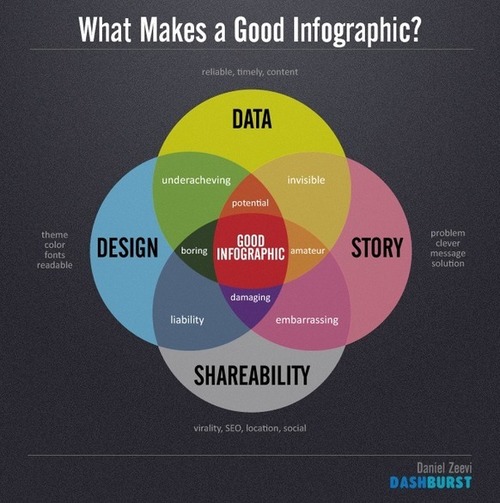 Infographics are visualizations of data that can help audiences quickly grasp complex sets of ideas.
It was about time some done it – a how-to of #infographics in infographics
And trust it to be someone with their finger on the pulse of pretty much everything that is hot in social media today, Dashburst.
But to be honest, I'm rather glad they did.  Especially if you follow their how to create an infographic guide to the letter and from the start.
Their first key takeaway is that the data you're looking to represent has to be from a reputable source.
It seems obvious in hindsight, but if your list of credits at the bottom of your infographic contains sources that no one's heard of, is the target audience going to be interested?
1. Data required for your infographic
Next up is the journey that the infographic takes you on.  Is your content likely to draw in a captive audience or does anyone really care about what size shoes all of the American presidents' wives wore at their inauguration?
You get the picture?  Here's the 'Story' plan, then:
2. The infographic storyboard
State the Problem or Issue
Time Frame
Deliver Message
Solution
Tertiary, we have design.  There are free infographic software programs on the Internet, but their templates are basic and it would take some pretty mind-blowing, unique data to make a free infographic go viral.
Point three stresses the need for unique, appealing design and rather says, between the lines, that people are prepared to pay more for people to visualise the image than the pople who actually research and curate the info in the first place.  Is there any justice in this world, Lord?
Apparently not:
3. Infographic design and elements
Color theme and structure
Fonts
Graphics
Appearance
In fourth, we have perhaps the most important aspect if going viral is your target: shareability.  And we're not just talking about the access and display on Social Media sites and within your circles.
Just think, what will your infographic say about the users themselves, those whose traffic you're hoping to piggyback in order to get your message or data-set out there?
Even a website's SEO comes into play if you're hoping for people to embed your infograhic into their web pages.
4. Infographic shareability
Relevance
Interestingness
Web optimization and SEO
Social media
And lastly, once you've created the individual masterpieces, many of which overlap, as the Dashburst overview image suggests, it's all got to be put together.
Like a storyboard, the information has got to flow logically, be simple to follow (how many infographic fails have you seen because the data goes on more little treks than James Tiberius Kirk's log?) and arrive at the conclusion, having passed through all of the points and arguments.
Representative infographic: The Life & Times of Steve Jobs
So there you have it.  How to make the perfect infographic, courtesy of DashBurst, my little twist and a nod to Ben Lloyd for pointing out that, even though there's a market price for infographics, they'd be nothing without the writers who've put together the source data in the first instance and yet get paid considerably less than those who know how to manipulate an image program.
And, yes I'm a writer, so I agree with Ben and there's no bitterness whatsoever in this sentiment…
…okay, uncross fingers, now.
See on dashburst.com