{EAV:a74425049563642c}
See on Scoop.it – UK Golf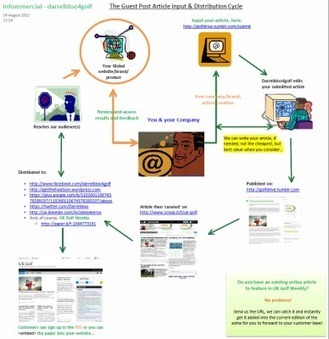 #Golf Drive: LinkedIn The Clubhouse, UK Tour 2013 Guest Post by Kay @ Brand You Brilliant #LinkedIn #socialmedia Source: golfdrive.tumblr.com via Jason on Pinterest Who wants to host a "LinkedIn Th…
Zebedeerox's insight:
Whilst there's probably some truth in the rumour that golf is yet to get to grips wholeheartedly with social media, LinkedIn members would argue the contrary.
There are some notable exceptions, of course; The Bleacher Report's golf columnists excel at optimising their content for social channels.
Thinking about it – as I was prompted to do by a guest post on It Drives Like A Golf, yesterday – let's temper that first statement about LinkedIn.
While the members in the golfing fraternity may argue the toss, it seems that there are a lot more professionals in the niche who'd like to be able to get involved, but can't.
They either haven't the social-savvy virtues or world-wide-web wherewithall to create a relevant following or create enough of a ripple to make spending time on LinkedIn worth their while or don't want to admit those shortcomings.
Why else would they not use one of the most prolific networking sites on the planet to make new contacts or suss out new opportunities?
The handful of networkers on LinkedIn who've took the bull by the horns and created golf-oriented groups seem to be having it all their own way.
Should 'social' networking really work like that?  Kay Hebbourn (and I) don't think so.
Within those groups, it always seem to be the group instigators or self-confessed salesmen and marketers who attract the greatest following, spark the greatest reaction and command the discussion threads.
Kay's company, BrandYouBrilliant, has spent years working in the social media sphere, one of their strategic areas of concentration being the golfing fraternity.
This year, BrandYouBrilliant is going on a UK Tour and will be passing a clubhouse near you.  Well, hopefully.
Kay and her merry band have identified the very real need for more golfers to get involved in the networking aspect of LinkedIn.  No great Sherlock skills needed there.
A lot of the action that used to take place on the greens and fairways of the UK's golf courses is now taking place online, meaning essential opinions are not being considered.
Perhaps even more worryingly, golf club memberships and 19th hole activity are suffering terribly as the golf course is no longer the place for networking it once was.
What's exceptional about BrandYouBrilliant's Tour is that it will not only teach the virtues of getting the most from LinkedIn, but by having clubhouses host the stages of the 2013 Tour, it's bringing much interest – and revenue – back to the golf clubs themselves.
BrandYouBrilliant has put together a fantastic itinerary for the package they're offering for their world tour of UK clubhouses, all highlighted in Kay's guest post through the article attached to this here Scoop.
If you have anything to do with running a golf club or are in any way associated with the golfing industry and you feel you need to develop your social media acumen, then I urge you to speak to BrandYouBrilliant.
Her training, as it says on the relevant page on her website, will teach you:
How to grow your network, get new leads and make sales on LinkedIn.
It's a course that genuinely will pay for itself.
If you'd rather deal with a familiar face than contact Kay unannounced, please feel free to e-mail me first to make the introductions: darrelldoo@zebedeerox.com with the subject "Brand me brilliant"
Use this e-mail, too, if you'd like to join my expanding network on LinkedIn or discuss guest-posting on It Drives Like a Golf as Kay did, no problem.  Full instructions for guest posting are on the submission page, here: http://golfdrive.tumblr.com/submit
If, on the other hand, you've no such hang-ups, you can contact Kay direct on 01229 588414 and just say to Kay, "Jay said 'Hey!'"
Have a great weekend; I look forward to hearing from you.
Jason D.
See on getthetwatson.wordpress.com