See on Scoop.it – abs workout solutions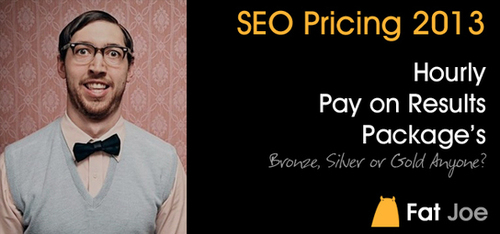 Zebedeerox's insight:
Cracking article on Fat Joe looking at what to charge for #seoservices.
As #freelance copywriters or #contractors, we all have an idea of our rate.
However, as #seo becomes part and parcel (the box, the wrapping and pretty much anything you want to to put inside your package) of copywriting services, it can be a bugger to know what to charge.
This article throws caution to the wind, appraising the 'gold, silver and bronze' route to pricing #seomarketing packages amongst others.
Conversely, if you're an SEO company who has an idea on what it expects to pay for different levels of copywriting:
1 – spun, BMR-type articles (just you dare!)
2a – 400-500 word manually spun articles, written with a simple nod to SEO
2b – 400-500 word manually spun articles that apply the latest SEO content techniques and tailored to your theme
3 – 1,000 word articles to spec 2a or 2b
4 – 2,000 word, white-paper-esque articles to spec 2a or 2b
…it would be awesome to have your input here to build up a price model for SEO content articles.
The reason I've segregated between 2a & 2b is because lots of webmasters are giving up on pleasing Google and adopting #ppcadvertising or social media integration as their main sources of traffic.
As freelancers, it's often difficult to persuade clients that paying for the best copywriting quality is worth it (great article on Search Engine Land recently about 2-years post-penguin and how crappy articles were still managing to rank: http://searchengineland.com/google-panda-two-years-later-5-questions-with-hubpages-ceo-paul-edmondson-149767).
If there was a resource that contractors could point potential clients to with what they could expect for their dollar, our quotes would be less of a shock.
By more accurately budgeting for better results, SEO would get a better name, delivering only the finest quality and (hopefully) the best SERPs and the scam merchants (dodgy SEOs & article spinners) would soon be relegated to also-rans.
I suppose that's me thinking idealistically, again.
But hey – both sectors in the SEO world want our reputations upheld (if not improved) and to be paid what we're worth without having to convince clients that we're L'Oreal.
Am I asking too much?
And does this resource already exist, but lies buried so far beneath pages of dodgy SEO and copywriting that it's unavailable for public and commercial consumption?
Look forward to your input, guys and gals…
See on www.fatjoe.co.uk